The Port of Brownsville's proximity to Mexico, Latin America's second largest economy, uniquely positions the port as the nation's key transshipment gateway delivering goods and commodities to nearby multinational manufacturing centers on both sides of the border.
Ranking among the top U.S. steel ports, the Port of Brownsville moves more steel into Mexico than any other domestic competitor.  In 2018, the port moved 3.2 million short tons of steel across the southern border.
Nearby Monterrey is a major industrial center in northern Mexico with a metropolitan population of nearly 5 million and home to dozens of commonly recognized international corporations. Monterrey is located 200 miles due west from the Port of Brownsville, where steel makers have come to rely upon the logistical efficiencies provided by the port. Convenient border crossings are located just seven miles from the port by truck and 13 miles by railroad.
In fact, the Port of Brownsville is more than 100 miles closer to Monterrey than the nearest Mexican port.
Recently implemented Mexican oil reforms, with the introduction of free market price dynamics in the fuel market – in addition to strong exports of steel – are contributing to the dramatic increase of cargo crossing the border. Ultra-low sulfur diesel, premium gasoline and specialty lubricants make the trip southbound by truck with increasing volumes and frequencies. Fuel imports, like No. 6 fuel, travel northbound by unimpeded rail crossings to the port as well.
These increases firmly entrench the port's foreign trade zone as a consistent export leader. In the most recent report to Congress, FTZ No. 62 ranked number two for the third year in a row for the value of exported goods out of 293 FTZs in the U.S., reaching $3.6 billion for the reporting period.
That comes as no surprise with more than 10 million eager consumers within a three-hour drive of the port – with many of those located south of the border. Moving cargo across the border in both directions is made easy with a wide variety of reliable transportation options.
Providing Class 1 rail service to and from the port to Mexico and all of North America includes Kansas City Southern de México for operations south of the border, with Union Pacific and BNSF Railway serving northern routes. On-port rail service is provided by agreement with OmniTRAX, operating the Brownsville Rio Grande International Railway (BRG) on more than 45 miles of port-owned railroad.
When trucks are a better option, the Port of Brownsville claims conceptual ownership of the state's first overweight corridor. Trucks crossing the border in either direction utilizing the corridor, to or from the port, can load to the legal weight limits of Mexico – 125,000 pounds (45,000 pounds heavier than domestic limits). That translates into remarkable savings in both time, money and logistical efficiencies.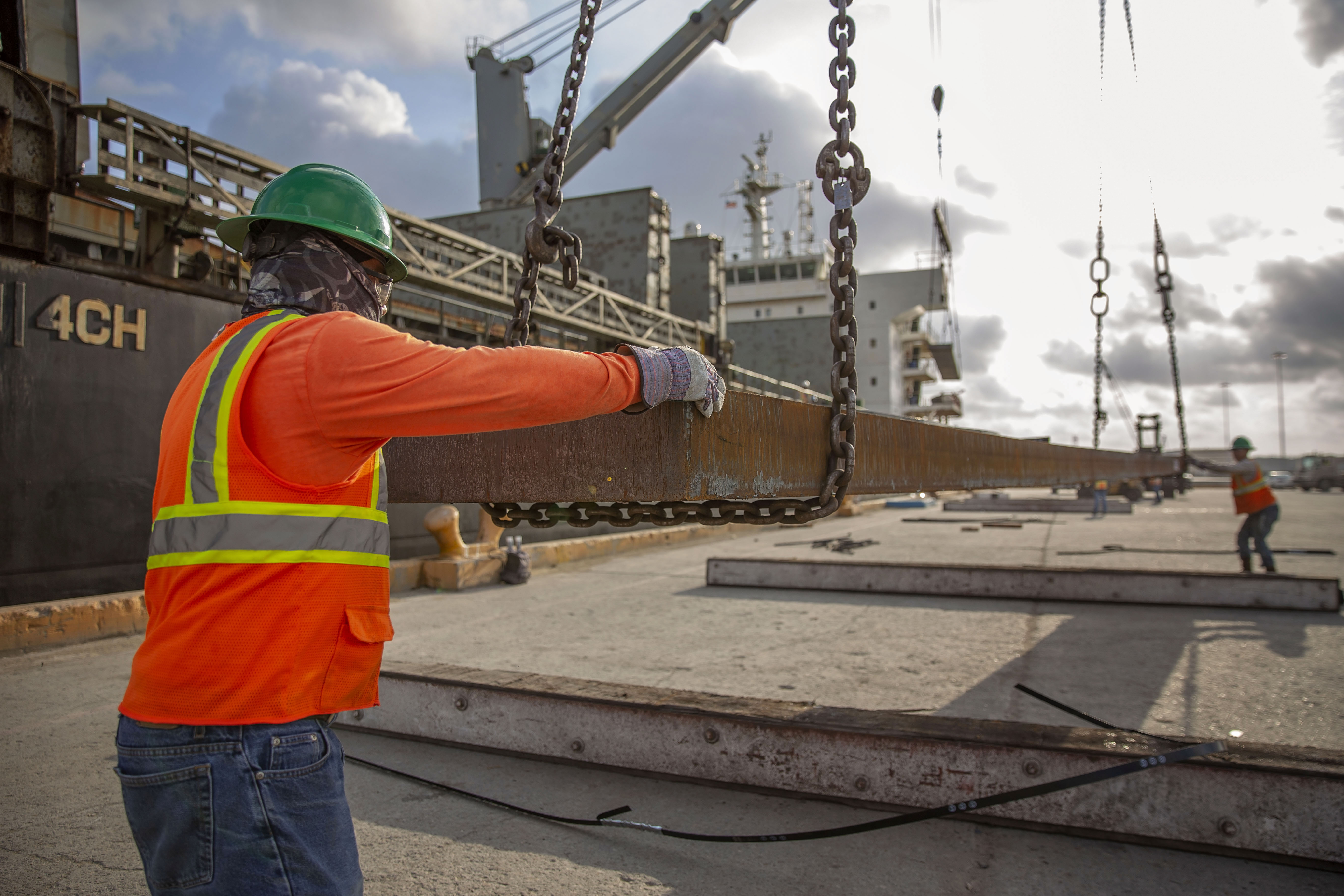 The Port of Brownsville ranks among the leading U.S. steel ports, moving more steel into Mexico than any other domestic competitor.