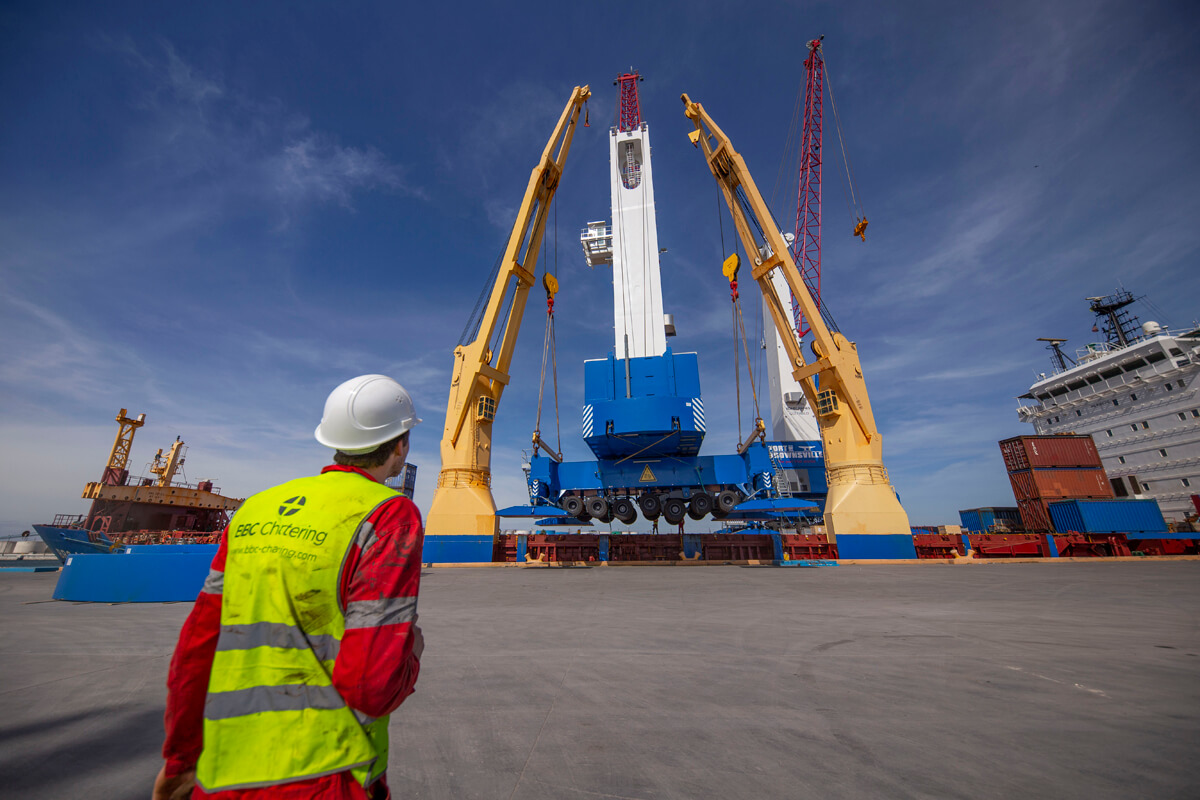 BROWNSVILLE, Texas (January 20, 2020) – Two new mobile harbor cranes arrived Thursday, January 16, at the Port of Brownsville.
The cranes arrived at the port on board the 393-foot long specialized cargo carrier M/V BBC ASIA.
The Brownsville Navigation District ordered the Konecranes Gottwald Model 6 mobile harbor cranes in June 2019 to increase the port's on-dock lifting capacity due to higher demands of cargo volumes.
"These cranes are one of the latest investments by the Port of Brownsville to meet the needs of our port tenants and growing list of clients," said Brownsville Navigation District Chairman John Reed. "The BND is committed to maintain and expand the infrastructure capabilities of the Port of Brownsville to keep the Rio Grande Valley competitive in the global market."
The cranes will handle a variety of cargo including breakbulk, dry-bulk, heavy project cargo and steel products.
Each crane has 28 wheels and 14 axels and stands at more than 150 feet at their highest height.
The Model 6 cranes are equipped with an advanced mobile harbor crane drive technology from Konecranes that meets EPA Tier 4f emission standards, helping the Port of Brownsville reduce its environmental footprint. The cranes also boast a powerful lifting curve with a maximum lifting capacity of 137.5 short tons and an outreach of up to 167 feet.
This brings the number of powerful Konecranes at the Port of Brownsville to three. The newest pair is expected to go into service almost immediately, following commissioning and a brief operator training period.
About the Port of Brownsville
The Port of Brownsville is the only deep-water seaport directly on the U.S.-Mexico border, and the largest land-owning public port authority in the nation with 40,000 acres of land. It transships more steel into Mexico than any other U.S. port. With more than $40 billion worth of projects currently in the works, the Port of Brownsville is transforming the Rio Grande Valley by creating positive investment opportunities and jobs. Activity at the port is responsible for adding more than $2 billion to the regional economy, $3 billion to the Texas economy, and for the creation of more than 44,000 jobs statewide.